Last week I dared myself to eat exclusively raw/live food for seven days–no processed sugar, coffee, or anything cooked. Last time I tried this goal over the summer I sadly quit after six days. It was stupid of me, but proves just how much we rely on comfort food to attempt to make us feel better. This time, I finished out the whole week–huzzah!
It was definitely difficult preparing food for the day with my busy schedule. Also, making sure I got enough sleep and had enough energy–I'm a die-hard night owl so I had to get extra rest to function properly without caffeine. I suppose I could have gotten by just getting take out from one of the raw restaurants in the city, but my wallet wouldn't have liked that so much. I did buy some tasty things locally when I realized I didn't bring enough food with me.
I ate a lot of fruit & nut avocado salads, green smoothies, almond butter, raw chocolate, and realized that I really really like these magical things called kelp noodles.
Try to ignore the fact that these are less than awesome cell phone pics: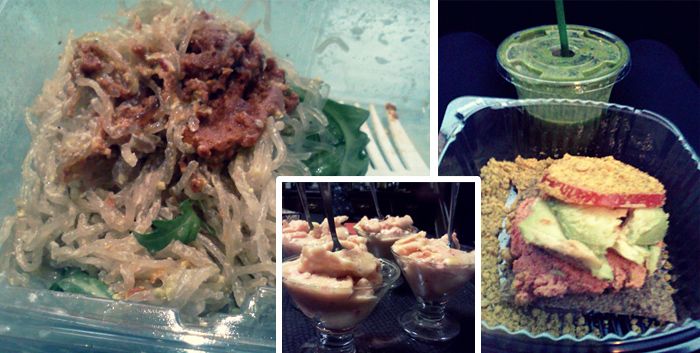 Since then i've been doing a pretty good job of sticking with clean/good food choices and not gouging myself with vegan pizza. I have a better appreciation of food and after the 2nd day felt a lot more fit. Yay!